Exhaust Hoses Reel 865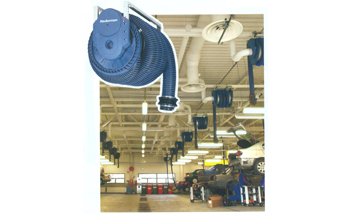 For all types of vehicle workshops, etc. where the hose can be set to hang at a reachable height. The patented spring drive makes the reel very easy to handle. A built-in patented automatic damper saves energy and reduces noise levels. Control of retraction speed optional, to provide increased safety and efficiency. Mounting of fan on reel is possible. The spring recoiled hose reel can be upgra-ded to motor drive.

• Simple and safe installation
• Automatic damper for energy savings
• Simple adjustment of lifting capacity
• Automatic start/stop of fan optional
• Control of retraction speed optional

---
Single Exhaust Extractors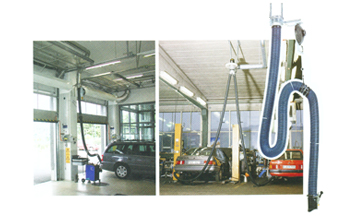 The single exhaust extractor is a reliable and functional solution for all types of stationary vehicles. Available with balancer or a cord for manual hose suspension. The balancer automatically raises the hose and nozzle after disconnection, and keeps them lifted clear of the floor at all times. Models for high temperature application are available.

• Easy handling of exhaust hose Takes up very little space.
• Low cost solution.
• Easy to install.
• Prepared for fan mounting on bracket.

---
Balancer for Exhaust Hoses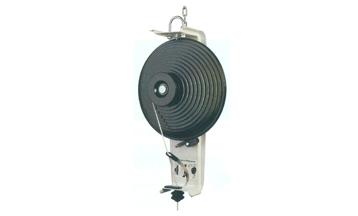 Balancer lifts and counterbalances exhaust gas hose and nozzle. The reversed spring power with conical balancer makes handling the hose very easy and safe, offering an even pulling force and lifting power. An integrated centrifugal brake prevents the hose from being lifted too quickly, which minimises the risk of personal injury and damage to vehicles. Hoist length : 8 m.

---