Vacuum Blasters SB 750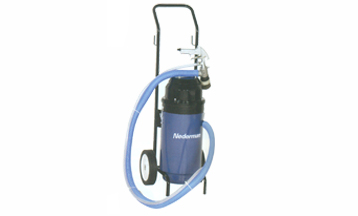 Blasting is the simplest and most effective way to remove rust, old paint and other materials from various surfaces. The Nederman vacuum blaster is a clean, dust free vacuum blaster that leaves the surface cleaned and well prepared for auto bodywork filling and painting etc. The grit is recycled and can be reused many times over. The SB 750 vacuum blaster is suitable for smaller-scale and lighter work.

• Lower cost by recovering grit.
• Built-in filter for minimum airborne dust.
• The closed blasting process does not affect other activities in your workshop.rections
---
Vacuum blaster Ab418 / Bb418 and Ab460 / Bb460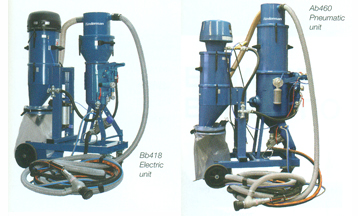 Nederman vacuum blasters have superior suction and filtration efficiency and provide for quick and effective work in a dust-free environment. The vacuum blaster is fitted with an automatic filter cleaning system.

Unique grit valve
Our unique grit valve can be pre-installed to achieve maximum blasting production with minimum consumption of materials.

• Maximum productivity - covers large areas in less time thanks to the design of the vacuum head and the constant even flow of grit.
• Less downtime with our unique cleaning and recirculation of grit.
• Long filter life with efficient pre-separation of grit and automatic filter cleaning.
Bb418 230 V/50 Hz
Ab418 Pneumatic
Bb460 230 V/50 Hz
Ab460 Pneumatic
Part no.
40056603
40056601
40056604
40056602
Weight, kg
193
193
242
242
Weight with hose,kg
+17
+17
+17
+17
Power, kW
2,4
-
2,4
-
Compressed air consumption / ejector Nm3 / min
-
2,2
-
2,2
Max, airflow, Nm3/hr
460
360
460
360
Max, vcuum, kPa
-21,5
-42
-21,5
-42
Blasting method
Pressure blasting
Pressure blasting
Pressure blasting
Pressure blasting
Blaster tank l
18
18
60
60
Pre-separator
18
18
60
60
Total air consumption
2 bar = 0.7 m3/min
3 bar = 1.0 m3/min
4 bar = 1.3 m3/min
5 bar = 1.7 m3/min

2 bar = 2.9 m3/min
3 bar = 3.2 m3/min
3 bar = 3.5 m3/min
5 bar = 3.9 m3/min
2 bar = 0.7 m3/min
3 bar = 1.0 m3/min
4 bar = 1.3 m3/min
5 bar = 1.7 m3/min
2 bar = 2.9 m3/min
3 bar = 3.2 m3/min
4 bar = 3.5 m3/min
5 bar = 3.9 m3/min
Capacity, m2 / hr
6-10
6-10
6-10
6-10
---